About Site Preferences
This information applies to Mozilla Firefox, and related browsers (ex. Pale Moon).
The Problem:
Mozilla Firefox has an option to clear/remove "Site Preferences". This option conflicts with SpywareBlaster's protection, and may result in SpywareBlaster showing unprotected items.
Background:
What Firefox calls "Site Preferences" are actually the exact settings that SpywareBlaster, and even Firefox itself, use to configure per-site restrictions or policies.
They are
not
: cookies, history, the actual "preferences" or data that a site may have stored about you (ex. your e-mail address, your favorite color), etc.
Some examples of Firefox features that set "Site Preferences":
if you allow pop-ups on a banking/ecommerce site
if you allow cookies from a forum site
There is very little reason to ever clear these particular settings. Clearing them removes per-site configurations that you have personally made, as well as per-site configurations that protection tools like SpywareBlaster have made. (This is why, if you clear Site Preferences in Firefox, SpywareBlaster shows unprotected items.)
The Solution
We strongly recommend the automatic fix. To take advantage of it, you must be running SpywareBlaster 4.5 (or later).
Automatic Fix:
SpywareBlaster 4.5+ automatically detects when your browser is set to clear Site Preferences, and offers to fix it for you.
You can see this by browsing to the section for your browser's protection in SpywareBlaster.
If a warning is displayed, like the one below, Site Preferences cleaning is enabled in your browser and will need to be disabled to prevent removal of SpywareBlaster's protection.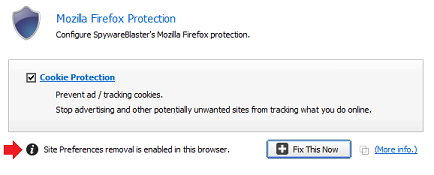 Simply close your web browser, click the "
Fix It Now
" button in SpywareBlaster, and you'll be set.
Manual Fix:
If you would rather uncheck the Site Preferences cleaning options in Firefox yourself, please see the instructions below.
(NOTE: The instructions below apply to Firefox 4-8+. The exact location/text of various options in Firefox may change in the future.)
There are two separate options to clear Site Preferences in Firefox: one for cleaning on browser close, and another when manually clearing recent history.
Next time you want to manually Clear Recent History...
Go to Firefox > History > Clear Recent History.
Uncheck the option "Site Preferences".
To prevent this from automatically happening on browser close:
Go to Firefox > Options, to open the Options window.
Click on the "Privacy" tab.
Under "History", you should see an option called "Clear history when Firefox closes". If this is not enabled, you can skip the remaining steps.
Click the "Settings..." button next to "Clear history when Firefox closes".
Uncheck the "Site Preferences" option, and click OK.