PDF MailTo Vulnerability Fix Tool
Automate the workaround for the critical Adobe Security Vulnerability (APSA07-04).
Vulnerability Details
There is a critical security vulnerability that affects Adobe Acrobat and Adobe Reader, versions 8.1 and below. For more information, please see
Adobe Security Advisory APSA07-04
and
CVE-2007-5020
According to the Adobe Security Advisory, your machine is vulnerable if you have:
Adobe Reader 8.1 and earlier OR Adobe Acrobat 8.1 and earlier
Windows XP
Internet Explorer 7
An official fix for this security vulnerability is now available in the latest versions of Adobe Reader. Please download and install the latest version of Adobe Reader for the official fix. This tool will remain available for legacy purposes.
PDF MailTo Vulnerability Fix Tool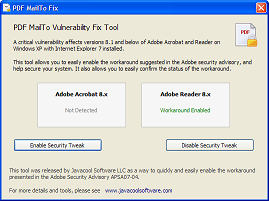 Our small tool implements the workaround detailed in the Adobe Security Advisory, without requiring manual registry editing.
Enable the workaround and help secure your system, or see the current status on your system - all with only a small download and the click of a button. Your existing settings are preserved - only the setting required for the workaround is changed.
This software package is provided on an 'AS IS' basis, without warranty of any kind, express or implied, or for any specific purpose, including without limitation the warranties that it is free of defects, able to operate on an uninterrupted or error-free basis, merchantable, fit for a particular purpose or non-infringing.
Command Line Options
For easier network deployment, command-line options are available:
-enableworkaround
(enables the workaround for any Adobe Acrobat / Reader 8.x versions that are detected)
-disableworkaround
(disables the workaround for any Adobe Acrobat / Reader 8.x versions that are detected)
The tool helps ensure that existing settings are maintained, with more validation than a simple registry entry deployment can provide.